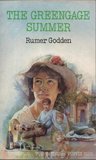 The Greengage Summer by Rumer Godden

My rating: 5 of 5 stars


Because this book was first published in 1958 & my edition was a Puffin Plus Reprint I was expecting a 1950s style teen book – & this book quite definitely wasn't.

It is like serving yourself a bowl of muesli, expecting a healthy breakfast & finding it has been heavily sweetened.

Or going to a movie expecting a new version of The Sound of Music & discovering it is more like Last Tango in Paris.

Great products, but you feel mislead by the packaging.


Greengage Blossoms
A mother takes her five children to experience life in France – basically because the oldest two -Joss & Cecil (in spite of the male names, these are teen girls)- are becoming obnoxious & selfish. The mother,has a horse fly bite which has become infected, is very sick indeed before they even arrive at the hotel & ends up hospitalised. I can't understand any mother, no matter how ill, choosing to entrust her children to the care of strangers, rather than sending for their admittedly judgemental Uncle William. Joss is the oldest and matters worsen when she also becomes ill. I can understand the hotel proprietor Mademoiselle Zizi feeling this is not her problem, but her lover, the enigmatic Elliot takes pity on these poor waifs – or does he?
To say any more would be to spoil the story (which we see through 13 year old Cecil's eyes) For me the only good thing that happens is the feasting on greengages. I have now found out that they are a type of very sweet green plum.
This is an excellent book, very well written & every twist & turn was a shock for me. It reminds me strongly of Bonjour tristesse, published four years earlier. Also with a young protagonist, also not a YA book.
In spite of these quibbles, I highly recommend this book & I'm expecting it to be one of my top reads of 2019.